NEWS
Christy Turlington, Ed Burns Always Dine Out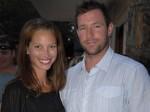 Christy Turlington and Ed Burns work hard and play hard — by dining out every evening!
The couple, who wed in 2003, will make waves during New York's Tribeca Film Festival with his film Nice Guy Johnny debuting April 23 and her film No Woman No Cry premiering April 24. (He directed, wrote and stars in the comedy; she directs the documentary.) All the while, Christy, 41, and Ed, 42, are parents to Grace, 6, and Finn, 4.
Article continues below advertisement
But that doesn't get in the way of a good meal.
"These days just to be able to go out to dinner without the kids – that's a highlight," he says. "I love eating in a different restaurant every night. That's what I like to take advantage of. There's so many. There's a great little place called Max's on Duane Street in Tribeca. Best lasagna in the City."
Christy's support means everything to Ed, who reveals the most important thing she's taught him.
"To not give up my dream," the actor tells me. "I've had temptations over the years to go and direct a studio romantic comedy, and she's said 'just stick to what you do, who cares if it's small?' When someone has your back where it relates to your dreams, that's invaluable."
Her presence charms him every day.
"She's really nice to me," he says. "She's sweet -- a great mother."
Catch Ed and Christy's films during the Tribeca Film Festival. Tickets go on sale Monday.