NEWS
Ciara Revs Up Romance with Amar'e Stoudemire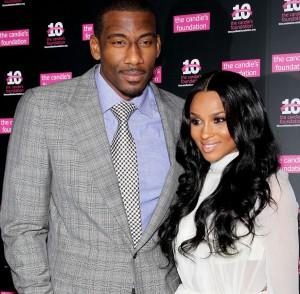 Ciara and NBA star Amar'e Stoudemire go public for the second night in a row during The Candie's Foundation 10th Anniversary of The Event To Prevent held Tuesday at Cipriani 42nd Street in NYC. It's getting serious!
On Monday, the singer, 25, and the New York Knicks player, 28, make the scene at the Costume Institute Gala Benefit Celebrating Alexander McQueen's Savage Beauty in NYC.
"It was fun," she says. "That was a nice event. That's the place you want to be when it comes to fashion, and being able to meet people and enjoy what fashion has to offer. And of course, Alexander McQueen was being honored, too. Great wardrobe selection."
Article continues below advertisement
By night two, they are side-by-side doing interviews as a team at The Candie's Foundation Event To Prevent, where she is honored for work in preventing teen pregnancy.
"I'm coming out to support Ciara, and also teen pregnancy issues that are going on for this event," Amar'e says.
Hm, what do they like to do when they're not attending an event?
"Uh-oh," Ciara nervously giggles. "Uh-oh."
Amar'e says, "It's all about having fun," and Ciara repeats.
MORE ON:
Red Carpet Confidential
"Movies," he adds.
For Ciara,not becoming a teen mom was the path for her to achieve her dreams. And, perhaps winning her dream man.
"My career is something I'm proud of, and it means a lot to me," she tells me. "I love kids, and I can't wait for that moment, but it's all about timing - and the right timing. I've always kept that in my mind, and that motivates me to be the best I can be so I can do that, and eventually sit down and enjoy myself. But because of my career, I want to be smart, and get what I can get out of life before taking that step so I can be a good mom."
Article continues below advertisement
When she does have children of her own, she won't be bashful about discussing the birds and the bees.
"I would have a real talk with them, and do things that I feel like women should do. A lot of times when we're young, parents sugarcoat things. They don't ever shoot it to you straight, so the things that I've learned, I would like to share them with my kids. Just give it to them real. I think the more that you're real with your kids, the better."
When asked what they enjoy about spending time together, the rep coyly says "they're calling us."
Indeed, Ciara is devoted to the cause and receives an award for her work.
"This is important for us to protect the real estate for the young women, to not stop yourself from living your dream, and be able to be free," she says as she accepts her award. "Thank you, Candies, for this honor. I am blessed."
The mission of The Candie's Foundation is to educate teens about the devastating consequences of teenage pregnancy.