NEWS
Cincinnati Bengals NFL Star Chris Henry Dies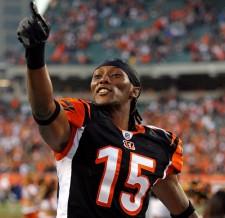 Cincinnati Bengals wide receiver Chris Henry has passed away, TMZ reports, due to injuries he sustained yesterday after he fell from the back of a moving pick-up truck. He was 26.
Cops believe Henry, who was introduced to a TV audience during HBO's Hard Knocks: Training Camp With the Cincinnati Bengals, jumped into the back of the truck in an attempt to stop his fiancée from leaving a "domestic situation" at her parents' home in North Carolina.
Article continues below advertisement
Henry was rushed to the hospital, but the Charlotte-Mecklenburg police said Henry died at 6:36 a.m EST this morning.
Police said they are still investigating the situation.