NEWS
Cindy Crawford: I Couldn't be a Supermodel Now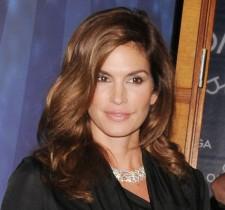 Cindy Crawford — who was famous in her '90s heyday for her curvy figure and signature mole — thinks she would fail as a model if she had started her cover girl career today.
"I would not have become a supermodel in 2009," she told Germany's Bunte magazine, adding, "I look too healthy."
According to the mom of two, "A body like mine with big breasts, normal thighs and toned upper arms" is no longer what the industry is looking for.
Article continues below advertisement
Cindy, 43, who has launched a furniture line called the Cindy Crawford Home Collection since quitting modeling in 2000, says she is happy with her physique.
"That's why I like being in my 40s so much," says Cindy, "being at peace with yourself, knowing about your strengths beyond being pretty."