NEWS
Cindy, Eva Are Linked Against Leukemia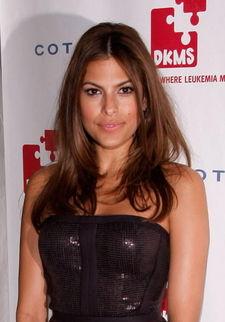 Eva Mendes amps up the attitude during the DKMS Links Against Leukemia Gala held at Capitale in NYC. We're told she's not talking to print, so it's time for a shout-out.
As caviar, smoked salmon and champagne go around, my well-connected reporter friend takes the fall. "Scarlett got engaged, are congratulations in order from you?" she says. (They both star in the forthcoming flick The Spirit.)
Eva shoots back, "I call and tell my friends. I don't need to tell a reporter."
Article continues below advertisement
Luckily, honoree Cindy Crawford is willing to open up because the cause is close to her heart. She tells me she was 10 when her brother Jack died of leukemia at age 4. What a heartbreaker.
"The technology that could've saved his life wasn't available," the Cavalli-clad supermodel says. (In person, her voice is small, her mole is prominent and her heart is huge.)
Sex and the City's Mario Cantone urges everyone to "get swabbed in the mouth."
"I was unaware of the small percentage available to find a match for a bone marrow transplant for leukemia," he says. "It's not just about matching a blood donor, it's about matching the DNA. It's impossible. And the bone marrow transplant is just a blood thing. The blood comes out, goes back in, they take the nutrients they need and it goes back in. It's an outpatient process."
Natasha Bedingfield lights up when she sees my P.A. pal, who also hails from England. "I miss the accents," she pines. When asked for her first crush, she busts out. "There's my first crush, right here," she says to a male reporter. Hahaha!
Article continues below advertisement
Outgoing Carol Alt is thrilled to chat about everything under the sun. She's the best! She says she's skinnier than ever thanks to a raw food diet. "I have to eat to keep my weight on, and that's a blessing. I starved as a model. Starved!"
Morgan Fairchild says "hi." Wait! I have a question for her! The publicist tries to chase her down, but alas, no luck.
Get this – DKMS raises more than $1 million during this event. Woo-hoo!
Pick up the OK! on newsstands now for more coverage of the DKMS Links Against Leukemia Gala. Reese Witherspoon and Jake Gyllenhaal/Ready To Wed is the cover line.