NEWS
Claire Cruise Opens Up A Big Can of Crazy Over MJ's Kids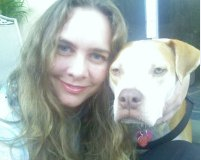 Along with Billie Jean Jackson, another woman showed up at Los Angeles Superior Court today claiming she's the mother of Michael Jackson's kids: Claire Cruise, 43, says she and MJ tied the knot back on Oct. 21 1983 in Princeton, N.J. on her 18th birthday -- and although she admits she never carried the kids for nine months or even donated her eggs, she says she's the biological mom of Prince, Paris, Blanket... and Connor Cruise.
Article continues below advertisement
It's difficult for us to figure out how to begin to unravel the words Ms. Cruise spoke to reporters today at a press conference outside the court house, but we've done our best to put down her story as she tells it. The tale includes three different men fathering her kids with MJ, who she says she hasn't seen since their supposed wedding in 1983. At that time, she explains the marriage was for "business purposes," so he could purchase her half of the Beatles catalog.
So why did Claire -- who also goes by Claire Elliott and Claire Jackson -- take so long to speak up?
"I couldn't get to L.A. any sooner, I attempted to file this paperwork two times -- it was canceled two times and I left here as soon as I could, and successfully filed the paperwork Friday the 7th for termination of guardianship," she explains.
Ms. Cruise says her DNA will prove her motherhood, as well as the marriage certificate from her wedding to Michael, whom she says she is still legally married to.
Article continues below advertisement
"I married him and never saw him again," she explains. "I didn't actually know it was him, I was told to forget about it and I did."
Michael wasn't the dad to her kids, she says, and names three men as biological fathers: A French man she dated in 1996, Cyril Rouhaut is Prince's father; Paris' dad is her "unofficial high school sweetheart," Julian Bleecker; and Blanket's dad is her official high school sweetheart and fiance, Chris Caputo, says Ms. Cruise.
Ms. Cruise also explains she never carried the babies in a "traditional way," saying, "I did not carry them for nine months. I did not donate eggs. Surrogate mothers gave birth to them." She claims, "I conceived them in my body and they were removed from my body."
Tom Cruise might also be surprised by some of Ms. Cruise's claims -- she says on her Facebook page (she also has an illuminating Twitter account and MySpace page) that he was her childhood sweetheart and they married in a non-legally binding ceremony when she was nine and he was 13. Also, she and Michael are the parents of Tom's adopted son Connor.
Article continues below advertisement
"I began to sue Tom Cruise and Katie Holmes, I decided not to go through on that," she explains of why she never sought custody of Connor. "I love Tom, he's my childhood sweetheart, I trust him, I wasn't going to go forward with that. I made that decision, that was back in 2006 and 2007, it was a difficult decision for me to make, it's terrible to watch another woman raise your child."
MJ knew he was Connor's dad, says Ms. Cruise, but "he voluntarily gave him up for adoption; he did not want his own child because of the color of his skin."
What does Ms. Cruise want, then, out of all of this?
"I want my children. I support the family that they're a part of, they're a part of the Jackson family," she says. "I am the biological mother, I did not give permission for anyone to give my embryos away. I may have unknowingly given my permission away when I was a minor... becoming a mother, that's what I want to be, I'm 43 years old, I think it's time that I at least get the opportunity to be a mother."
Article continues below advertisement
Ms. Cruise says she's willing to take a DNA test, exclaiming, "Of course! I'm ready. That will prove everything." She even admits that her claims sound "outlandish," which is why she's representing herself.
"What lawyer is gonna believe me? I know, I agree, I don't think any lawyer would want to put their reputation on the line, and come forward in supporting me until the DNA test is done."
What lawyer, indeed.
Ms. Cruise also admits he's never been tested for mental capacity, and is surviving on Social Security and disability until she finally claims her "huge inheritance."
Good luck with everything, Claire, including your hearing on Sept. 24.