NEWS
Clarence Clemons, E Street Band's Saxophonist, Dies at 69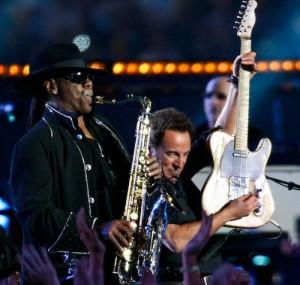 After legendary saxophonist Clarence Clemons had a massive stroke last week, sadly he passed away over the weekend at 69. Although he's perhaps most known for playing the saxophone in the E Street Band and alongside Bruce Springsteen for 40 years, proving the indelible mark he made in music, his last final performance was with Lady Gaga on the season finale of American Idol.
OK! NEWS: BRUCE SPRINGSTEEN ISSUES STATEMENT ON CLARENCE CLEMONS
Article continues below advertisement
According to Rolling Stone, signs after his massive stroke on June 12 were initially hopeful. After two brain surgeries, he took a turn for the worse.
OK! NEWS: CLARENCE CLEMONS GETS WARM WELL WISHES FROM LADY GAGA ON TWITTER — URGES FOR "GET WELL VIDEOS"
The "Big Man" left his mark on the music industry with "Born to Run," "Thunder Road," "Dancing in the Dark," and countless more songs. In fact, The Boss credits him as a true partner in their musical journey. In Clarence's memoir, Big Man: Real Life and Tall Tales, Bruce wrote in the introduction, "The story I have told throughout my work life I could not have told as well without Clarence."
MORE ON:
Bruce Springsteen
Praising Clarence and the fact that he was the only band member to appear on the Born to Run cover with Bruce, the singer noted in the memoir, "When you open it up and see Clarence and me together, the album begins to work its magic."
Magic indeed. Rest in peace, Clarence.