NEWS
Clarence Clemons Remembered by Bono at U2 Concert; Chris Martin Pays Tribute on Twitter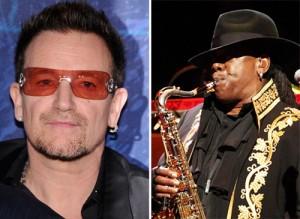 Clarence Clemons' passing at the age of 69 did not only have a great effect on Bruce Springsteen and the E Street Band, but also on the music community as a whole (as well as the Big Man's millions of fans). Bono took time during the U2 concert in Anaheim, Calif., on Saturday night to remember Clarence's legacy and his impact on the industry.
Before launching into the U2 megahit "Moment of Surrender," Bono delivered a short tribute to the saxophonist, who had died earlier that day after suffering from complications from a stroke he suffered earlier this month.
Article continues below advertisement
"I want you to think about the beautiful symphonic sound that came out of one man's saxophone. I want you to think about Bruce Springsteen and the E Street Band — brothers," Bono said, via The Hollywood Reporter. "I want you to think of Clarence Clemons. This man just carried music, and music carried him, until this day."
Bono also added several words from the famous Bruce/E Street song "Jungleland" to the end of "Moment of Surrender."
Clarence died at his home in Florida Saturday after complications from a stroke.
Other notable musicians to comment on the legend's death were Chris Martin, Slash, Eddie Vedder and the band Def Leppard.
Chris posted on Coldplay's official website, "RIP our favourite saxophone player, Clarence 'Big Man' Clemons," along with a video of Bruce and E Street's hit "Jungleland."
Slash Tweeted, "Clarence Clemons was one of the finest musicians/people in this business. He will be sorely missed. RIP," followed by, "Great sidemen like Clarence Clemons don't get the full appreciation they deserve until they're gone."
MORE ON:
Bruce Springsteen
Article continues below advertisement
According to Spinner, Pearl Jam front man Eddie paid his respects to Clarence, dedicating"'Better Man," with the lyrics changed to "bigger man," to the legendary saxophonist during a solo show in Hartford, Conn.
Def Leppard wrote, "The Leppard family would like to pass on their sincerest condolences to Clarence Clemons' family, and to Bruce and the E-Street Band."
Bruce also released an official statement on his website.
"Clarence lived a wonderful life," he wrote. "He carried within him a love of people that made them love him. He created a wondrous and extended family. He loved the saxophone, loved our fans and gave everything he had every night he stepped on stage. His loss is immeasurable and we are honored and thankful to have known him and had the opportunity to stand beside him for nearly 40 years."
Watch U2's tribute below.
"Jungleland"