NEWS
Claudia Schiffer Pregnant with Third Child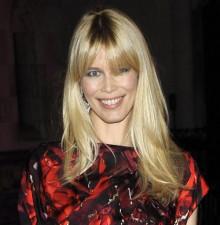 Congratulations go out to model Claudia Schiffer, who revealed today that she and her husband Matthew Vaughn are expecting their third child in May!
Vogue reports that the 39-year-old German Model is five-and-a-half months pregnant with her and her British director husband's third child.
Claudia and Matthew have a six-year-old son Caspar and a five-year-old daughter Clementine.
She attended the British Fashion Awards last month when she was four-and-a-half months pregnant, but the news was announced today!
Article continues below advertisement
"We are delighted with the news," Claudia said today, "and can't wait to add to our family."
The model already has a son Caspar, aged six, and a five-year-old daughter, Clementine.
Wonder if it will be a new sister or a brother for Casper and Clementine? And if the baby will have a name that starts with 'C'!