NEWS
Clay Aiken: "I Haven't Watched Idol in Four Years"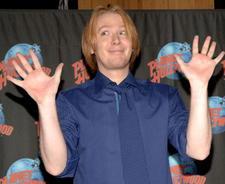 One-time American Idol runner-up Clay Aiken has found his niche now that he's playing Sir Robin in the Tony-winning musical Monty Python's Spamalot.
"It's very much a small tight-knit community and it's very much a family backstage at the show," he tells OK! during the Planet Holllywood Handprint Ceremony to commemorate his accomplishments. "People get along very well, and that's different from a lot of things that I've done in the past."
Article continues below advertisement
Though none of the American Idol judges have been able to see his performance because they're not allowed to travel while the show is taping, Clay certainly acknowledges that the show made him the star he is today.
"Being able to make a career out of something that used to be a hobby is a big difference," the former special education teacher says.
Still, the season two runner-up doesn't tune in to root for his favorites. "I haven't watched it in four years," he admits.
Indeed, the 29-year-old singer has been too busy focusing on his own career. "I don't have any free time," he says. This busy bee has sold six million copies of his first three albums, and is readying his fourth, On My Way Here, for release May 6.
In the meantime, the North Carolina native is doing his best to adjust to life in NYC.
"I've had to live without my dogs because it's really not a dog city," he tells OK!. "I had them when I was up here for awhile, and one of them couldn't really handle it so he went back and the other one was really lonely so I sent her back to be with him. I guess that's the only real adjustment. I've stayed really busy, and I've been to New York a number of times so I'm really used to the cab situation and getting around. There's not really an adjustment, except for never having any quiet whatsoever."
Catch Clay in Monty Python's Spamalot at the Shubert Theater through May 4.
By Valerie Nome