NEWS
Clay Aiken Not Ready to Put Rumors to Rest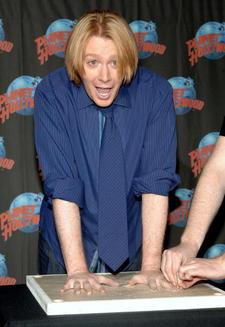 Believe everything you read about Clay Aiken. Go ahead, ask him yourself. The onetime American Idol runner-up and current Broadway star tells OK! he has no rumors to clear up — not even the one about his sexuality.
"At this point everyone knows everything," Clay tells OK! "I had a fan a few years ago say 'I know everything about you except for what your favorite color is.' In that case, I'm never telling anyone my favorite color. I've stuck to it for five years – no one knows. For the most part, people know quite a bit. After five years, people have figured out as much as there is to know."
Article continues below advertisement
On his new CD On My Way Here, the singer who shot to fame in 2003 has a song called "The Real Me." Why is it important for this North Carolina native to be honest with his fans?
"These are people who put me where I am. These are the people who are the reasons I'm doing what I do. When you think about it, they were part of my career from the very beginning. They voted every single week to make sure I stuck around on Idol, and they've been a part of the process. Allowing them to be a part of the process as much as possible when we make an album or when we make a career decision is important, too."
Although he doesn't keep up with most of his fellow Idol contestants, Clay remains tight with Ruben Studdard, Kelly Clarkson, Kimberley Locke and Fantasia.
"Kelly and Ruben came over to my house not too long ago," he tells OK! "It's nice to be able to hang out and catch up. They both happened to be in my hometown on the same night, but we don't hit the clubs. For them and especially for me, there's a certain time that you have to be 'on.' When Kelly, Ruben or myself are not working, we're still 'on.' It's nicer for me to sit at home and watch TV or go to a movie or go to dinner and just hang out and catch up."
And how is he finding life as a blond?
"I don't really know why we did this," he laughs. "With the dark hair, I felt I was looking old. I'll be completely honest with you. I'm sure I'm going to go back to the dark at some point just because the blond, I don't know, whatever. When I get my hair out from under the Spamalot wig, I'll be going back to the brown."
By Valerie Nome