NEWS
Clay Aiken (Sort of) Apologizes to Adam Lambert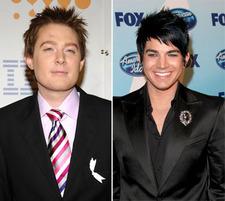 Last week, former American Idol runner-up Clay Aiken found himself with foot planted firmly in mouth after he took to his personal blog to critique Adam Lambert, the show's latest second-place finisher.
In the post, the singer mentioned that he "thought my ears would bleed," while he watched Adam perform. He also called the controversial contestant, "Contrived, awful, and slightly frightening! I wasn't really a fan and found myself surprised whenever folks told me that they liked him."
Article continues below advertisement
In order to quell the storm of negative feedback he's gotten in the wake of these comments, Clay once again sat down and blogged an apology... of sorts.
"I'll be the first to admit that my opinion is just that, only my opinion," he writes on ClayOnline.com. "I never assumed my opinion mattered so much! I guess I may have been wrong."
Clay continues, "I am sure that some were upset by my choice of words describing my opinion of a performance I heard from Adam Lambert. I hope no one actually believed that blood truly poured forth from my ears when I heard him. I obviously meant it as a colorful statement to imply that I did not enjoy what I heard."
The singer also states that he didn't intend to hurt or offend anyone with his original post. "I would not venture to make judgements on the personality or demeanor of anyone I don't know, so none of what I said in my previous blog was directed as a 'slam' on Adam as a person. At the same time, I wouldn't dream of slamming him as an entertainer," explains Clay. "He does what he does, because he enjoys it, and he obviously has many fans who enjoy it as well. If what i said in my previous blog regarding my impression of a single performance from Adam upset or offended any of his fans, I expect that the mature ones will realize that it was simply a poorly worded metaphor describing my personal tastes. The only person I would really dream of apologizing to is Adam. And the irony is, if he's smart he couldn't give a crap what I think of his 'Ring of Fire' performance... I hope he can forgive me. I imagine he doesn't give a damn! :-) God knows he shouldn't. :-)"