NEWS
Clay Aiken Spams a Lot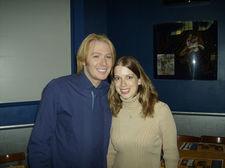 challenges me to a trivia game he's reading off the menu when we meet upstairs at Planet Hollywood in Times Square. (Help! I only had a free movie pass from 2005-2007.)
He's moments away from getting his handprints to celebrate his role in Monty Python's Spamalot when he admits this is his first time in the eatery.
"I've never been before, but is that Spamalot on the TV now? Look at that! It's very busy. It's a very excitable place. There's a lot of memorabilia that I've never seen before. I didn't really know the importance of it, but now that I see everything else they have hanging here, it's an interesting honor to have my hands put beside some much bigger names than mine."
Article continues below advertisement
The North Carolina native, 29, is in work mode now that he's wrapping up his run in the Tony-award winning musical May 4. His fourth album, On My Way Here, will be released two days later on May 6.
Poor Clay. He tells me he hasn't had any free time to enjoy life in NYC, and he shakes his head "no" when asked about his plans to vacation this summer. (He also squelches a roundup question about Madonna.)
Since Spamalot is the topic du jour, why did this American Idol finalist have to have this role?
"Well, the reason we chose to do this show is because it was so different from any other Broadway show out there," he tells me. "It's silly, it's more about acting than it is about singing, it's about pushing me out of my comfort zone. That's what made it exciting."
How does he compare to his zany character Sir Robin?
Article continues below advertisement
"Oh gosh. Hm. Probably in more ways than I care to admit. I'm very timid in a lot of situations. I don't think I'm quite as dumb as he is, and I've never soiled my own pants, but coughs I'm timid in some ways but the character of Robin is very cartoonish in general. All of them are."
Moments after we chat, Clay sticks his hands in wet concrete. With mouth agape, he poses for photos with sticky residue on his hands.
"I'm blind!" he exclaims after flashes pop. "Am I going to fall?" he says, as he stumbles into the Spamalot sign.
Should he tumble, hundreds of Claymates are clamoring to catch him — including one former OK! staffer who stepped out to greet him during her lunch hour.
Clay is grateful for the love of his fans.
"They've been very supportive. Some of them have been many times, and still laugh at it every single time."
Catch Clay in Monty Python's Spamalot, which takes place at Broadway's Shubert Theatre now through May 4.