NEWS
Clay Aiken's No Adam Fan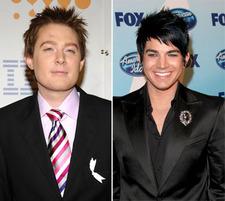 Clay Aiken knows what it's like to come in second on American Idol, but that doesn't mean he's got much love for this year's runner-up, Adam Lambert.
"Now that it's all over, and for the record.... I couldn't be happier about the way AI ended this year," he writes on his members-only subscription site, ClayOnline.com. "I only turn the show on once a season, and only to see what the set looks like each year. This year, I happened to turn it during the minute that Adam Lambert was singing 'Ring of Fire' and, at that moment, thought my ears would bleed. Contrived, awful, and slightly frightening! I wasn't really a fan and found myself surprised whenever folks told me that they liked him."
Article continues below advertisement
Ouch!
Clay goes on to say that he thinks Kris Allen was very likeable, and that it all comes down to personal taste of the voters, as when he and Ruben Studdard competed in the final two.
"This year, there was an obvious bias. Not even having watched the show, I can tell you that I was WELL aware of the bias from the judges as to who should win. In my opinion, that is awfully unattractive," writes Clay. " In my opinion, it all often comes down to that last night of voting. Until the finale, folks are voting for the contestant that they want to see continue. But, I believe that on that last night, the dynamic changes. No longer forced to choose one person that they want to see win, the audience can effectively vote AGAINST the person that they don't want to see win."
"Somewhere along the way, AI stopped being about real people," adds Clay.
Tell us what you really think!