NEWS
Clooney, Margulies Headed to ER?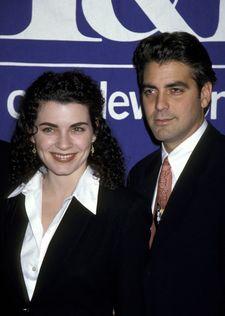 Facing a shortened development season brought on by the writers' strike, NBC is in the final stages of renewing ER for a 15th and, most likely, last season next fall.
Entertainment Weekly is reporting that the network is courting former ER alums, George Clooney (Dr. Doug Ross) and Julianna Margulies (nurse Carol) for the final season. Original cast member Noah Wylie has already signed on to reprise his role as Dr. Carter for four episodes. Also on board for next season: Goran Visnjic (Dr. Kovac).
Article continues below advertisement
"We'd love to get them all back in some way," says executive producer David Zabel. "We want to revisit characters that have existed on the show over the years and say where they are now."
But let's get down to business: Can George Clooney the movie star be swayed to return to the show that made him a household name? Zabel says it's actually another ER alum that has him worried.
"The toughest will be getting Tony (Anthony) Edwards (Dr. Green), because his character is dead!" Zabel laughs. "That's a little tricky, but there are ways to do it that we've thought about, even if it were like a lost episode from 1996, featuring him and Wyle."
In the meantime, the show will keep things buzzing for the remaining six outings this season by bringing in Aida Turturro (The Sopranos) for a three-week stint as a patient and adding a hot new doc (possibly an unknown actor from Australia) who's supposed to make Dr. Gates (John Stamos) look like a plain white-coat.
"He'll be a sexy rake, a devil you can't resist," Zabel says, adding, "a dynamic new character has the ability to motivate everybody, though it's easy to get excited about next season considering it will be the last."