NEWS
Up Close And Personal With Brad Pitt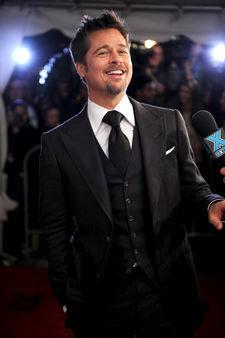 Brad Pitt turns on the charm during the Burn After Reading premiere held at Roy Thomson Hall during the Toronto International Film Festival.
Shrieks erupt as he wades into the crowd to sign autographs. We're told he won't stop if it gets too crazy on the red carpet, and he starts moving quickly down the line.
"I love my job!" he says, smiling, noting all the excitement. I guess even a movie star never gets used to the nonstop attention, right?
Article continues below advertisement
His character in this crime comedy is a little off-the-wall. Is he like that in real life? "You see some remnants of home there," he yuks.
And, working with George Clooney? "It's always good fun."
How's the family? "All good," he says, showing off pictures of the kids on his BlackBerry.
World-famous Brad doesn't have all the answers, though. When asked what makes him laugh, he replies "Oh my God, really? That's a little general for me." Ouch!
John Malkovich takes a hit at Brad in the film.
"Three or four takes, I just ruined before we even got there because he's such a sort of space cadet and nitwit in the film," John says. "He's very funny. But I have no desire to punch Brad Pitt. I'm very fond of him."
Tilda Swinton gets a chuckle when a reporter calls the cast veterans. "I'm going to tell them that you called them veterans," she says. "Spring chickens, I think they would prefer."
MORE ON:
Red Carpet Confidential
Article continues below advertisement
Hm, what makes her laugh?
"If you're properly trained up by brothers when you're a child, you could say one word over and over again -- tape recorder, tape recorder – over and over again and make me laugh," the Oscar winner says.
Costar Richard Jenkins calls Brad a guy who is "very quick and likes to laugh."
With that, Brad heads into the theater rubbing the shoulders of a woman who appears to be Frances McDormand.
"That's really stylish – just walking straight in," Tilda says. "She does it right."
Burn After Reading is in theaters now.
For more on Brad Pitt's time in Toronto, pick up the OK! on newsstands now. "Brit Hits Back!" is the cover line. And, check back tomorrow for more coverage of the Toronto International Film Festival.