NEWS
Co-Star: Kristen Stewart Always Looks Nervous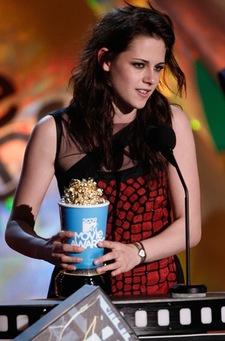 For an actress in the biggest movie franchise going, Kristen Stewart doesn't exactly always do her best when pushed into the spotlight. Case in point: Her strange, distracted acceptance speech for Best Female Performance at Sunday's MTV Movie Awards. It was a stammering, nervous mess that culminated in the young star dropping her golden popcorn statue on the stage.
Kristen's behavior at the Movie Awards instantly started the rumor mill spinning with bloggers and armchair psychiatrists ridiculously misdianosing her with everything from nervous system disorders to substance abuse. But, says her Twilight co-star Peter Facinelli, that's just how she is.
Article continues below advertisement
"I think that's just Kristen," Peter told OK! at the NYC premiere of his new Showtime series, Nurse Jackie. "She has that kind of shaky leg syndrome because she always looks a little nervous. But to sweep the awards like that… If that doesn't build confidence, I don't know what does."
THE STYLE EVOLUTION OF KRISTEN:
As for what's going on with the much-awaited sequel, New Moon, Peter explained that the shooting part is done and it's all now in the hands of the post-production team. "Now they put it all together — Hopefully, put all the good parts together — and make a good movie," he said. "I'm excited to actually see it. There's a lot of the CGI stuff that, as an actor, you don't get to see."
What was his reaction to seeing the first trailer for the film on Sunday? "I got to see that for the first time, I had chills," he confessed. "Is that really bad to say that you had chills during your own movie? Because I'm a fan of the books, too. It's pretty cool. I've had that image of Jacob running and stepping and leaping into the air and turning into a werewolf for ages, and now I got to see it on screen. That was pretty cool."
Be sure to check out Peter as a very different kind of doctor in Nurse Jackie when it debuts on Showtime on June 8.
BY VALERIE NOME