NEWS
COACH POTATO: Cole Hauser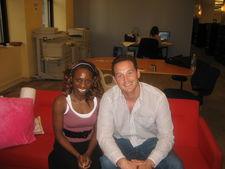 On the cop drama K-Ville, Cole Hauser plays detective Trevor Cobb who along with his partner, Marlin Boulet (Anthony Anderson), is restoring order to a post-Katrina New Orleans. Off camera, Cole is dedicated to revitalizing the city he now calls home. Cole stopped by the office and spent a few minutes on the couch to tell me of his ongoing efforts, and of his southern drawl.
Your show is shot on location in New Orleans. How is the city recovering?
Article continues below advertisement
Slowly. I think people want it to happen overnight; snap their fingers and it's all better. There is so much devastation and so many houses are destroyed. I'm trying to enlighten people there are things we need to clear up in New Orleans because our brothers and sisters aren't doing too well down there.
What projects are you working on to help revitalize the neighborhood?
I'm working with City Park right now. K-Ville shot there. There were these two empty baseball fields, and I thought, "Where are the kids playing? If they're not playing here, they definitely aren't playing anywhere else." We're rebuilding the fields, it costs about $100,000, and we're looking for money right now. It would definitely be a dream come true.
How can people make a donation to the park?
At neworleanscitypark.com
Playing a cop is physically demanding. What do you do to stay in shape?
They got me running a lot. It keeps me in shape. We were down in August and it's like 116 degrees and 90 percent humidity. You just walk and you're breaking a sweat. I think at one point I drank 16 bottles of water.
Sounds like you've picked up the New Orleans accent.
Article continues below advertisement
I was born in California, moved to Oregon and then to Florida. I'm definitely not a East coaster. But I think it's hard not to pick up the accent. They've got a certain cadence down there. We're working with New Orleans S.W.A.T., and they're the real thing.
How's the food?
It's so rich, you can put on some pounds, so you got watch it. But it's so good. They know how to spice it up, and I like a little bit of spice.
K-Ville airs Mondays at 9 p.m. on Fox.