NEWS
Bad Parenting? Coco Austin Lets Baby Daughter Chow Down On Eye Shadow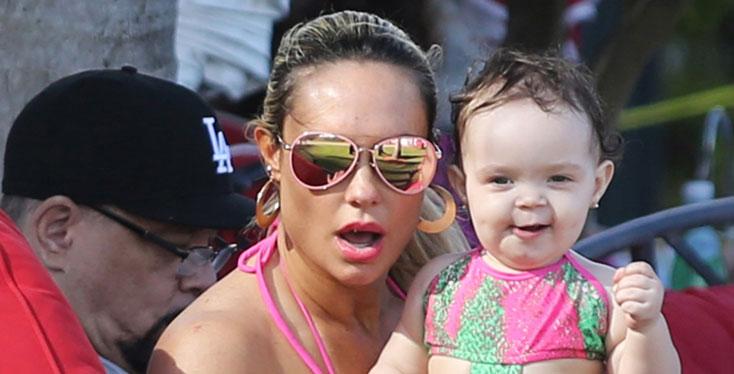 Coco Austin's daughter Chanel was caught on tape red handed chowing down on her mama's makeup.
The mother-of-one took to Instagram to share a funny flick of the one-year-old covered from head to toe in gobs of dark brown eyeshadow. Chanel appeared to be having tons of fun until tears started to well up as Coco attempted to remove the container from her baby's hands. "Honey, you can't have the eyeshadow. You just can't, I'm sorry," Coco told her daughter in the vid.
Article continues below advertisement
And while some fans are chuckling to themselves over the cute clip, others are putting the glamour model under fire and attacking Coco's parenting, questioning if it's safe for the child to consume the cosmetic product.
"Mom always ruins a good time," the 37-year-old wrote in the caption on her daughter's social media page. "Eye shadow is fun to eat, I thought."
Some followers slammed Austin, suggesting that it's "not safe" for her to eat makeup and that it could be "poison." "I hope she don't get sick," one critic quipped. While others came to the dancer's defense. A commenter noted, "Kids at that age are into everything. Thank goodness makeup is now made with products that won't harm babies anymore."
What do you think of Coco's parenting? Sound off in the comments section!