NEWS
Cody Simpson Says Song With Justin Bieber Won't Be On His New Album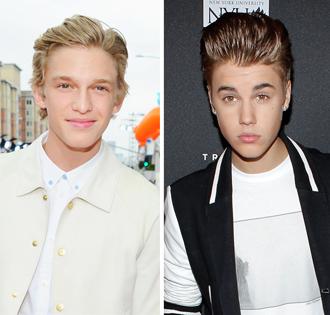 The public will finally get to the see the debut of Justin Bieber's "Boyfriend" video very soon, but one thing we won't get quite yet is his collaboration with fellow song bird Cody Simpson.
OK! caught up with Cody in NYC where he broke our hearts by saying their track won't be on Cody's June 5 release.
"I don't think so, not this time around," he said.
"You know a lot of work goes into putting a great song together, you know, especially when there's two people involved. We have lots of ideas and we have to break it down. It has to be the right song. You can't put out a song just for the sake of putting one out. So we'll see, we'll see."
Article continues below advertisement
The tour he's speaking of includes the huge Nickelodeon boy band Big Time Rush.
"It's going to be very cool. I think a lot of people are very excited. I've been chatting with Big Time Rush about putting on a really great show and it's going to be really good."
Will they share the stage together? Cody revealed, "I'm sure!"
The summer tour begins July 5 in Columbus, Ohio.