NEWS
Cojo's Battle With Kidney Disease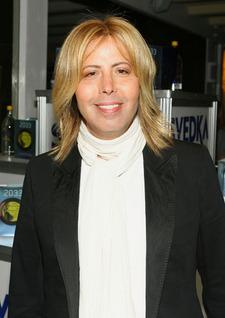 He's witty and pretty — and suffering from polycystic kidney disease. Entertainment Tonight correspondent Steven "Cojo" Cojocaru documents his life with the disease — and his double kidney transplant — in his new book Glamour, Interrupted. In a special two-part interview on Jan. 18 and Jan. 21 with ET, Cojocaru candidly discusses his struggle to survive.
The flamboyant Hollywood stylist to the stars admitted that he was "in denial" about the effects of his lifestyle on his disease. "I thought I was immortal. I was young, living the Hollywood dream, life in the fast lane. I thought I was untouchable. I was also secretly afraid, deep down inside. I didn't lead a healthy life. I was a chain smoker, I liked a cocktail now and then, I didn't sleep, I didn't eat. For me, a meal was guzzling diet soda. Before I was diagnosed, I hadn't been to a doctor in over a decade."
Article continues below advertisement
Cojocaru underwent his first kidney transplant in early 2005, with his best friend as the donor. Within months, that kidney contracted polyoma virus and it was removed. His mother donated another kidney in 2005.
"Dialysis sucked the life out of me. I was on a machine. It was harrowing and it was sad. I was flattened as a human being." When asked if he ever thought he wouldn't make it, "There was a voice inside of me that said, 'It's just not my time. I'm not going anywhere.' I felt like I had lived just a second of my life. With a little humor, there are so many more gowns to critique, there are stars who need me! On a serious note, I had barely begun living."
The after-effects of the surgery were difficult for Cojocaru to handle. "When you're just coming out of the transplant, they have to blast you with steroids. Besides ballooning, mentally I felt like I was jumping out of my skin. I was like a dragon, spewing bile and fire. The slightest thing would set me off. There are a bunch of sales clerks in Beverly Hills that I really apologize to. It was like, 'What do you mean you don't have this in a size medium?!? What do you mean you don't have these shoes?!' I should have been locked up. I was angry that this happened to me."
Article continues below advertisement
In an image-obsessed industry, it was difficult to deal with the realities of illness. "I was worried I was going to lose my career. I thought it was over, that the A-list would never look at me again, and that broke me. That made me so sad, because my career is something I cherish. Disease doesn't really play in Hollywood and it's not the most understanding town. It took my breath away that people reached out. I was absolutely stunned by how embracing Hollywood was and how open their arms were."
The experience, he says, has radically transformed him. "The lights are on. I don't feel like the lights were on before. The lights were on in a very meaningful way. I never asked to be a role model, I never asked to be thrust into this position, but I am. I want to bring awareness to kidney disease. The whole experience opened my eyes. I never thought in a million years that I would be actually satisfied with what I have, which are great teeth and good hair. And an amaaaaazzzzing wardrobe!"