NEWS
Colbert for Prez?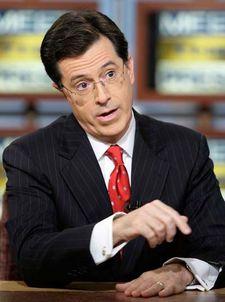 Stephen Colbert, host of Comedy Central's wildly popular mock-conservative talk show The Colbert Report, announced last month he'd be running for president. And like a lot of what he says on his show, most folks just laughed it off.
Well, today it seems it was more than just for giggles, as Colbert filed a to be on the Democratic ballot in his home state of South Carolina. He's paid the $2,500 fee and is awaiting to see if officials will allow his name to appear on the list of nominees.
Article continues below advertisement
It seems there are a few regulations that Colbert has yet to show he's fulfilled. For instance, it is unclear if he's met the requirement of actively campaigning in the state. Though he did stop by the University of South Carolina in Columbia declaring that if he won he'd "crush the state of Georgia."
Don't expect many votes from the Peach State, Steve...