NEWS
Cold War Kids Inspire Fans in the Big Apple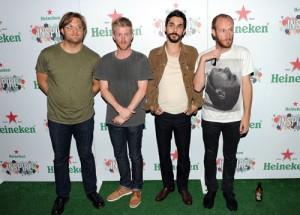 OK! caught up with the Cold War Kids and found out the inside scoop on their newest EP Behave Yourself — set to debut in January 2011. The indie rock group from Cali launched to fame after going viral on various music blogs and landing on the Entourage soundtrack. Now, they are ready to shake fans up a little bit with their highly-anticipated third album.
From their lyrical inspiration to Twilight and the Jersey Shore, check out OK!'s interview with lead vocalist Nathan Willett and bassist Matt Maust — right before they rocked their performance this weekend at the "Heineken Inspire" To Rock New York event at St. John's Center Studios in NYC!
Article continues below advertisement
OK!: How was your approach to your third album different from your first two?
Matt: Time, we had way more time. We made ourselves have more time to spend with the songs and pick them apart. And roll them back. And take them apart and roll them back up. To really make them perfect.
OK!: Is there a theme lyrically?
Nathan: A lot of what was happening lyrically kind of came about; one thing in the past, we were very narrative, fictional different situations and this one is much more personal and kind of more about relationships and more about a lot of friend's relationships starting and ending.
OK!: how do you hope your fans will react?
Nathan: I think it's going to be interesting; we have had the luxury of never having to think too hard about a lot of what the music hat we put out will be perceived as… but the difference the first and second record and this one is a lot more drastic. I think it'll be interesting. I think we'll probably lose some people, and gain some people.
Matt: I think our hardcore fans might be riled up a bit, but in the long run we'll gain much more fans. Hopefully.
Article continues below advertisement
OK!: Are you inspired by anything in pop culture? Movies, books?
Matt: John Cassavetes, he was like a huge thing… it might be a little too left field, but I don't know, maybe not.
Nathan: I just think in general, with the start of the band and the four of us, and the way we were, I think this is probably the first time, and I'm sure this happens for every band, where lyrically I'm speaking for the four of us so it's much more convenient to have a more abstract and fictional story than to have a more personal story of something that really relates to my life because it feels like I want it to represent everyone, to get to a place now where I feel really comfortable doing that. So I guess more kind of personal art, art that tells a story of a person's real life rather than through somebody else's stories. John Cassavetes is a film director that, one thing that he said is that there is no more powerful subject matter than the relationship between a man and a woman. All great revelation comes from that very simple thing and that's just something I was really inspired by.
OK!: If you were approached to take part in the Twilight soundtrack would you be interested?
Nathan: Yeah, if something's right, we'll always consider it. There was a time when, we have a song called "Cryptomnesia" and they asked us to use it and I don't know what exactly ended up happening, but yeah. If it was the right thing, yeah.
OK!: What do you guys think of the whole vampire craze right now?
Matt: I don't know much about the vampires...
Article continues below advertisement
OK!: Do you watch the Jersey Shore?
Nathan: No.
Matt: I've never seen it. There's Mike "The Situation" right? Yeah, I haven't seen it, my girlfriend was talking about it, about that show.
OK!: Is there anything else you want fans to know about your upcoming album?
Nathan: We're really excited about it. It's probably going to be coming in January of next year, we're still working on it now.
Matt: It's still title-less, we're working on a title.
OK!: What is the process like for deciding on a title?
Nathan: You can't think about it too much. It's just gotta make sense. It's gotta encompass, but it can't be too meaningful.
OK!: Do you guys ever fight over it?
Nathan: We have a lot of other stuff to fight over.
Check out Cold War's song "Cryptomnesia" which was considered for the Twilight soundtrack.