NEWS
Colin Firth Oscar Acceptance Speech: "I Have a Feeling My Career Just Peaked"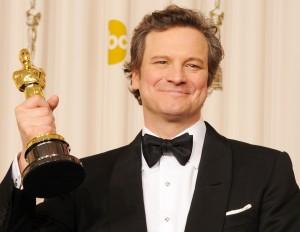 Colin Firth delivered one of the best Oscar acceptance speeches Sunday night at the 83rd Annual Academy Awards — funny, charming and to the point. The actor was favored to win the golden statue for his role as the stuttering King George VI in The King's Speech, an accolade he greatly deserved! And not only did he win, he shared the honor with his whole cast as the film nabbed Best Picture!
Article continues below advertisement
When he first took the stage to accept his award, Colin quipped, "I have a feeling my career's just peaked."
He then continued to relay his nervous energy to the audience: "I'm afraid I have to warn you that I'm experiencing stirrings somewhere in the upper abdominals which are threatening to form themselves into dance moves."
"Joyous as they may be for me, it would be extremely problematic if they make it to my legs before I get off stage," he added.
And as every good husband must do, Colin thanked his wife Livia Giguggioli for always standing by him.
He also managed to thank everyone he worked with on the movie, giving his co-stars Helena Bonham Carter, Geoffrey Rush and director Tom Hooper, who also took home the Oscar, a special shout out!
Catch Colin's perfect speech below! Was he your favorite of the night?