NEWS
Colorado Police Department Explains Charlie Sheen's Arrest on Charges of Assault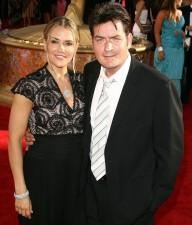 After a 911 was placed from the home of actor Charlie Sheen on Friday morning in Aspen, CO., the 44-year-old was arrested on charges of second degree assault, TMZ reports, and the Pitkin County Police Department explains the details of his arraignment exclusively to OK!.
"Mr. Sheen is still incarcerated at this time and a mandatory restraining order has been filed against him," Stephanie Dasaro, a spokesperson for the Pitkin, County Police Department told OK!, "He is not allowed to contact the victim and we won't be releasing the victim's name, per policy. Mr. Sheen is currently awaiting advisement by a judge before he can be released."
Article continues below advertisement
And although the police department couldn't reveal the victim's identification, sources at TMZ claim that the domestic dispute went on between Charlie and his wife, Brooke Mueller.
Calling 911 at 8:34 AM, Brooke claimed that Sheen assaulted her, while sources at TMZ report that Charlie argues that he was only trying to defend himself from her.
Regardless, Sheen was arrested on charges of, "felony second degree assault, felony manacing and criminal mischief," according to TMZ.
The question of alcohol being involved still remains open as Dasaro of the Pitkin Police Department tells OK!, "Well, that I can't say yet, but that information is coming and will be part of what is released in his warrant."
In the meantime the Two and a Half Men star's rep, Stan Rosenfield, tries to keep the public at bay.
"Do not be mislead by appearance. Appearance and reality can be as different as night and day, Rosenfield states, "It would benefit everyone not to jump to any conclusion," TMZ reports.