NEWS
Columbus Day Special: Biggest Celebrity Globetrotters!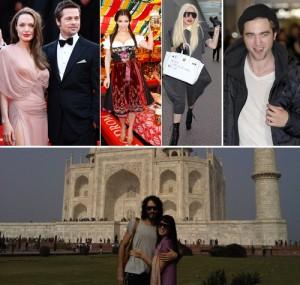 Celebs are known for taking glamorous vacations and touring the world in their free time. However, some A-listers travel the globe more than others. In honor of Columbus Day, OK! takes a look at the biggest celebrity globetrotters, who make it a point to make themselves known worldwide. Whether working on humanitarian efforts abroad, promoting their careers, filming flicks or performing, these celebs have tons of stamps in their passports.
Article continues below advertisement
Angelina Jolie and Brad Pitt may be the biggest Hollywood globetrotting couple, however, Jay-Z and Beyoncé, Katy Perry and Russell Brand, and Tom Cruise and Katie Holmes are not far behind!
Justin Bieber is probably one of the youngest stars to make our list, at 16, but this global singing sensation has an abundance of fans worldwide.