NEWS
Comic-Con Debuts Sexy Footage From 'Breaking Dawn' Honeymoon!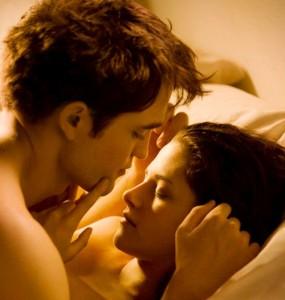 Twi-hards got a huge teaser clip of the Breaking Dawn honeymoon — complete with a shirtless Robert Pattinson skinny-dipping with Kristen Stewart — during Thursday's Comic-Con panel, and the squeals from the audience were certainly loud. What can fans expect in the onscreen adaptation of Edward Cullen and Bella Swan's trip to the Isle of Esme?
In the clip, Edward carries Bella into their vacation house, and after the two anxiously survey the bedroom, Bella tells Edward she needs a "a few human minutes," Entertainment Weekly reports, and he replies in true Edward fashion, "Don't take too long, Mrs. Cullen."
Article continues below advertisement
What a tease! We want more! Are you excited for the highly anticipated Breaking Dawn sex scene?
Sound off in the comments!