NEWS
Commercial Break With American Idol's Amanda Overmyer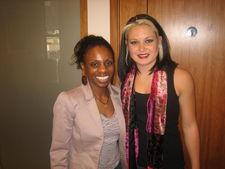 Yesterday, I was lucky enough to meet up with Amanda Overmyer, the 11th runner-up in this year's competition. Surprisingly, she's not broken up about being inched out of season seven's top 10.
"Being different and not necessarily what the show's cut out for, and the fact that I had enough fans to keep me there till 11 from 24, was a huge accomplishment to me," Amanda shared. "I really have no complaints."
Article continues below advertisement
Indeed, her gravelly rocker voice and biker-chic appeal isn't the norm for Idol. "I'd like to see it," she says of a winning Idol rocker, "but I think it will be a while before that happens." Instead, Amanda's looking to bring her sound on the open road. "I just want to keep on doing Southern rock at live shows, probably biker rallies — the stuff I've always played at, just on a bigger scale." And she'll be content if a music career doesn't work out. "There are a million and one people who want to do it, so if my 15 minutes are up, they're up. I'll go back to doing what I was doing."
That includes planning a wedding. Waiting back home in Mulberry, Ind., is her fiancé, Casey Taylor. "It had all kind of been put on hold pending Idol. Now we'll be able to be more proactive on it," Amanda said.
Can't wait to see what hairstyle she'll be rocking!
American Idol airs tonight, Wednesday, March 26, at 9 p.m. on Fox.