NEWS
Commercial Break with Breaking Bad's RJ Mitte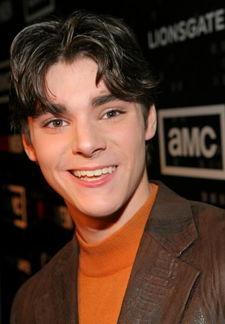 Breaking Bad's 16-year-old star RJ Mitte, who plays Walter White's son, Walt. Jr., is having a blast in his first major role, even though he had to learn a few new things to play it. "I never used crutches before in my life, so I had to learn how to use crutches. I had to slur my speech a little and let my body go, not try to keep my hands and feet straight," says RJ, who, like his character, has cerebral palsy in real life.
Article continues below advertisement
RJ says he and Walt have a lot more in common. "We're almost the same age, we have the same kind of attitude, we mostly like to be treated the same way—pretty much everything, except my dad doesn't do crystal meth," he laughs.
RJ is also having a laugh over his famous dad, Bryan Cranston, who earned a legion of fans playing the "goofy" dad on Malcolm in the Middle. "He's one of those guys who will easily make you laugh," RJ says. "He can do something and you'll just bust out laughing."
While RJ wouldn't reveal any of Breaking Bad's sure to be explosive finale next month, he did say this. "I don't want to ruin it. I'm just going to say the episodes get better as they go along."
Breaking Bad airs Sundays at 10 p.m. on AMC