NEWS
Conan O'Brien Celebrates Final 'Tonight Show' with Irish After Party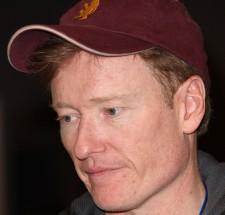 Keeping with his upbeat attitude even after leaving the Tonight Show, Conan O'Brien followed his funny man send off from NBC with an equally bubbly after party for his entire crew on Friday night.
Accompanied by friends, including actor Will Ferrell and Andy Richter, and over 200 co-workers, Conan munched on Ben and Jerry's ice cream, sushi, and best of all, tons of Jameson Irish Whiskey for all, Pop Eater reports.
Article continues below advertisement
A guest at the goodbye affair told Pop Eater that the whiskey, which fits in with Conan's Irish roots, went quickly as, "Guests drained magnums!"
The comedian hung with celebrity pals, but spent most of his night posing for pictures with his entire staff, as they dressed up for the event in "Team Conan" tees according to Pop Eater.
And in perfect spirits, Conan, who appeared, "laid back," according to a guest celebrated his final Tonight Show monologue with smiles.
We have a good feeling that Jay Leno, who is set to replace Conan at 11:35 on NBC in March, missed the soiree.