NEWS
Conan O'Brien on George Lopez's Show Getting Axed By TBS: "It Makes Me Really Sad"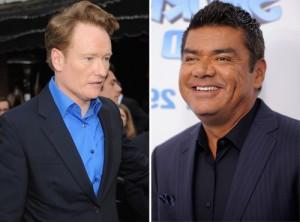 While George Lopez may have made a joke out of TBS canceling his program Lopez Tonight, his fellow late night host Conan O'Brien (who made his debut on TBS earlier this year after a debacle with NBC over The Tonight Show) is pretty upset by the whole thing.
"Had it not been for George being so incredibly supportive of me I would not have come to TBS," Conan said last night on his hit talk show Conan, after the first commercial break, via Entertainment Weekly. "It makes me really sad that TBS and George could not work this out … so tonight all of our thoughts are with George and his staff and his crew."
Article continues below advertisement
George was pushed back into the later time slot, because of Conan's arrival on TBS. It's good to see the ginger comic standing by his pal.
Instead of mourning, George took the funny way out last night on Lopez Tonight, joking about his dismissal from TBS.
"So in case you didn't hear the news, TBS has decided not to renew Lopez Tonight," George announced on his show last night. "But that's alright!"
"So hey! Did you guys see the news?" he asked. "Unemployment is at an all-time high and for Latinos it just got a little higher."
OK! NEWS: GEORGE LOPEZ TALKS LOPEZ TONIGHT CANCELLATION — "CABLE DOESN'T WORK"
But George is trying to stay positive about his career after this bad news.
"I did get some good news this morning though. Sony announced they were doing a sequel to The Smurfs movie," George said while wiping his brow. "So today I lost some work because I'm brown, but also I got some work because I'm blue."
As far as his future plans, George quipped, that he is "going to find some crack."
He added: "I'm going to get on the pipe. Lose that unwanted 110 pounds I've been trying to lose."
He also doesn't want to say goodbye, rather, "cable doesn't work."
Tonight will be the final episode of Lopez Tonight.