NEWS
Confessions of a Teen Idol: Eric's Daring Rescue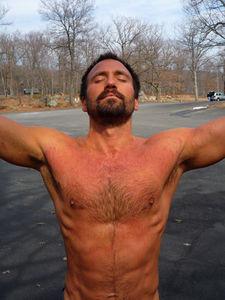 I was a major fan when Confessions of a Teen Idol ran on VH1.
Those former teen heartthrobs bared their souls to us.
The show may be finished, but on March 7, Eric Nies bared everything else to save his pooch, Sugar Ray Cooper, from the icy waters at Bear Mountain, N.Y.
"Sugar Ray was checking out these birds, and soon as they flew down on the water, he got excited and ran onto the ice after them," Eric told me over the phone.
Article continues below advertisement
"The reason why I took off my clothes is because they were going to weigh me down," he explained.
"I actually fell through the ice when I was a kid, so from past experience I know how difficult to swim and get yourself on top of the ice."
Eric suffered cuts across his abdomen and a mild case of hypothermia as a result of his heroic feat.
And for the haters, it wasn't a publicity stunt!
"People were saying on the blogs why didn't anyone else jump into the water, it must have been a set up," Eric said.
"There was no point of anyone else coming in with me. And it's kind of a panic moment. Right before I was going in, one of my friends said 'Take this log.' It weighed about 60 lbs."
Eric's 10 lb. mixed terrier back is in fighting form. "He's doing really great," he shared.
The holistic-living reality star, who now runs Chi Force with his brother John, got a sweet production opportunity From Confessions to continue making his film and his friends dealing with addiction. He swore wouldn't have done anything differently for man's best best either.
Except maybe wear underwear.
"I wasn't wearing any," he confessed. "I would have probably kept it on."