NEWS
Confessions of A Teen Idol: The Interviews, Part II!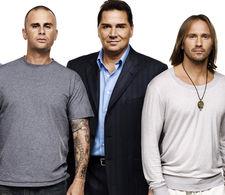 Confessions of a Teen Idol is only five days away!
I know you're drooling to read more from the stars, so without further ado: Jamie Walters, Billy Hufsey and Eric Nies!
JAMIE WALTERS
Jamie, 39, starred on Beverly Hills 90210 and had a hit single, "How Do You Talk to an Angel."
You work for the LA fire department. Do the guys rib you about being a former teen idol?
While I was a rookie, they moved me to one of the toughest stations. I showed up at 5:30 one morning to make coffee, and the guys really had printed really embarrassing pictures of me from Teen Beat magazine and posted them all over the kitchen. But after that some of guys asked me to sign copies of CDs for their girlfriends!
Article continues below advertisement
Would you like to return to 90210?
I hear that Tori Spelling is thinking about playing some kind of role, and I would imagine, if she gets on the show, I could have a guest spot. I would just hope they wouldn't have me throwing anyone down the stairs.
What was the craziest rumor spread about you during your teen idol heyday?
There was a story printed that said Tori and I had taken our onscreen relationship offscreen, but the photograph was not of me. It was a completely different dude, but they were so desperate for the story, they used it anyway.
Do you miss having hordes of girls screaming out your name?
I still have screaming girls: my daughters, ages five, three and one.
BILLY HUFSEY
Billy, 50, starred on the TV series Fame and the soap opera Days of Our Lives.
What do you miss most about your teen idol days?
One time I was in New York City at a dance convention and there were 500 chicks chasing me. I'm running and thinking, "What the hell I'm running for? This is what I want." People try to bust my chops saying, "You were a teen idol?" Dig it. If I had the chance to do it over, I would do it the same way. It was great.
Article continues below advertisement
What's been your craziest fan encounter?
On the set of Fame, I was coming back from the commissary. I opened the door to my dressing room and there was a lady sitting in there with a gun. She said was in love with me and she said that she wanted us to go to heaven together. I said, "Can we have coffee first?" I'll never forget that.
Who has the biggest ego in the house?
Me! When you've been out of the business your talent is a rusty as nail that been sitting out in the rain, you gotta come up with something (laughs). You're talking about seven cats that were so huge in their day and now they're back to the basics trying to regenerate a career, so we really checked our egos at the door.
ERIC NIES
Eric, 37, appeared on the debut season of The Real World and hosted MTV's The Grind.
Did your fellow Confession stars ask you for advice on how to handle reality TV?
It came up quite a few times. You're always concerned on how you are portrayed, that the things you say or do are taken out of context. These guys didn't really have that concern, because they don't really want to be in reality television, it's just an opportunity to get their name out there again. There was a couple of times I gave them some insight as how these things are edited and why they produce them the way they do. But that just brought us all really together, which was really special. This was a show about seven guys who had a lot in common, who were there to watch each other's back and make sure everyone came out on top.
Article continues below advertisement
Do you keep in touch with anyone from your Real World days?
I was in Hawaii last year at a friend's wedding and I just happened to run into Norm Korpi. I was driving around this corner, and all of a sudden he was coming down the street in a jeep It was so cool. He was there with a whole group of friends celebrating a birthday. We just randomly ran into each on Kawai, one of the most remote islands on the world. We always run into each other in the most random places.
What have you been working on since you left the teen spotlight?
I do life coaching. I rehabilitate drug addicts, help people to lose weight and get their life back together. I always been in health and fitness, and I've always been interested in wanting to give back and help other people. My brother and I have been working on a feature-length documentary about friends who grew up battling with drug addiction. Some are in jail, some are in dire need, and they've all agreed to share their story. It's something that we're very passionate about.
Article continues below advertisement
Was it weird to go from regular guy to reality show idol?
It's always weird. People come up to you and they ask you personal questions about something they saw you do or say. The most difficult, you're always your worst critic, so seeing yourself act, behave or respond in a certain way in a situation, is always very humbling.
Catch the premiere of Confessions of a Teen Idol Sunday, Jan. 4 at 8 p.m. on VH1.
FYI: Tonight, I'll be celebrating the New Year with EXTRA! host Mario Lopez at Joonbug 's party at Marquee nightclub here in New York City. Hope your ball drop is tons of fun, fellow fanatics!