NEWS
Confessions of A Teen Idol: The Interviews, Part III!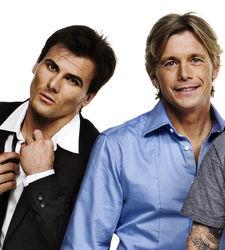 It's my last installment of the cast members from the hot new reality series, Confessions of a Teen Idol. Enjoy Chris Atkins and Jeremy Jackson!
JEREMY JACKSON
Jeremy, 28, played David Hasselhoff's son, Hobie, on Baywatch.
What was your craziest fan encounter during your teen idol days?
I was in Holland in a car with my mom, and it rushed by seas of people. They got 20 security guards to make a human tunnel so we could run into the studio. Hands were reaching through and grabbing me and pulling at my clothes. It was my insane Beatles moment.
Article continues below advertisement
Did being a teen idol contribute to your past drug addiction?
The entertainer personality, the hunger for acceptance and that raw hyper energy are traits that go hand in hand with an innate craving for more. Had I never been famous, I still would have ended up addicted to drugs, but fame helped me find a low place much more quickly.
What was the best lesson David Hasselhoff taught you about teen fame?
Me and the Hoff are so close, we still talk. He always said you have to believe in yourself more than anybody, and no one else can push you harder than you push yourself.
CHRIS ATKINS
Chris, 48, became an overnight sensation when he starred in the 1980 classic film, The Blue Lagoon.
Do people still approach you about the Blue Lagoon?
I was just in a parade in San Diego, and there was a fan that showed up 5 in morning with her daughter. holding a sign that said, "Show me your loin cloth," and her daughter had a sign that said, "my Mom thinks your hot." It was flattering.
Article continues below advertisement
You did a lot of nude scenes in the movie. Would you do one now?
I was jogging the other day, and I thought a dog was chasing me, but it was my ass hitting the back of my legs! I was doing a layout, and the photographer asked me if I would do some nude shoot, and I said, "Okay." So yes, they still surprisingly call for it. There's going to be a day where they say, "Will you please keep your clothes on!"
How did you cope with the darker side of fame?
I've been through everything in this business, from having extreme fame to nothing and having millions of dollars in the bank having it completely all stolen by a business manager who left me with $200 dollars and a child and another on the way. It's been a wild ride. But the great equalizer has been my kids.
Are you still in touch with your Blue Lagoon co-star Brooke Shields?
Article continues below advertisement
We're still friends, and I'm happy and excitied for her that she has her kids. When mine were growing up, my daughter was in awe of Brooke, and Brooke couldn't have been nicer. She would pick them up and hold them and dote over them, and I thought, "She's going to be a great mom someday."
Once Confessions ends, will you give up your jobs building pools?
No way! It's freaking brilliant and I'm learning a lot about it. I've built some really nice barbeque pits and lagoons, and did one job for John Goodman. Put the name in there, tropical-environments.com.You got to have a side job!
Catch the premiere of Confessions of a Teen Idol Sunday, Jan. 4 at 8 p.m. on VH1.