NEWS
Confessions of A Teen Idol: The Interviews!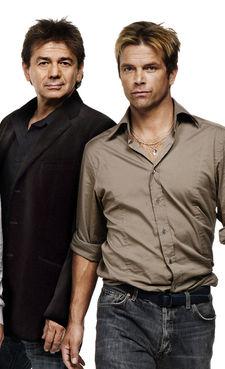 Reason I love my job no. 298: Easy access to all my former teen celeb crushes!?
VH1 launches Confessions of a Teen Idol this Sunday, where seven ex-heartthrobs take the plunge to try to reclaim the fame that has escaped them over the years.
I got the chance to interview the entire cast (for real!). Check back over the next few days for my exclusive chats with the boys who kept our bedroom walls from going bare.
Article continues below advertisement
DAVID CHOKACHI
David, 40, made a big splash starring on Baywatch.
You almost quit the series in the first episode!
They couldn't disclose everything we would be doing on the show, and when I talked to our producer, Scott Baio, I said to him, "Would you say 'yes' to a movie without reading the script?" I had no idea what they were planning to do to us. But it was a chance to a explore new medium I hadn't worked in, and it wasn't a competition, that was really positive. Still, doing the show was a gamble.
What's your best memory from Baywatch?
On the show we had all these opportunities to do these amazing action scenes. I would be out in Catalina shooting diving sequences. Riding jet skis full blast and taking out a guy jumping from ski to ski, literally for me was the best part.
Have you ever had a crazy fan encounter?
People were always punking me to save them since I played a lifeguard. You can't be crying wolf on me! But one time we were down in Miami Beach doing an appearance and a girl was having trouble in the water. I thought she was setting me up to clown me, but my manager and I swam out to her, and it was the real deal. Who I was never even came across her radar because she was so freaked out.
Article continues below advertisement
What have you been doing since you left the beach?
I did Witchblade, which was completely different from Baywatch. I was a New York City detective and the role was kind of dark and edgy and changed people's perception of me completely. It's hard to get the Baywatch image out of people's mind, so I'm constantly finding things where I can play against type.
ADRIAN ZMED
Adrian, 54, starred in Grease 2 with Michelle Pfeiffer and on the TV series TJ Hooker with Heather Locklear.
What was your strangest fan interaction during your teen reign?
One day my doorbell rang and at the door was a framed intricate stained glass mosaic of the face of my one-year-old son! While I was touched by it's beauty, I was also disturbed that a stranger would spend what must have been countless hours studying the face of my son, and finding out where I lived.
What was it like living in the house with other former teen idols?
Article continues below advertisement
The first time the guys hung out in the locker room I could see we all had the same size – egos. But it's not how big your ego is, it's how you use it. It was a frat house atmosphere that I never had when I was in college. The camaraderie with the guys was a very special brotherhood I will never forget.
What's your best memory of being on Confessions?
We put together a little show for inner city kids. Creating it, performing it and seeing the joy in their faces made me very happy and proud of the guys.
What advice do you have for today's teen idols like Zac Efron and Robert Pattinson?
So many young stars today seem to be losing their identities in all of the hype and publicity. Focus on doing great work with your acting, treat people well and do something to help the world along the way. Everything else in life will come naturally and so will all the publicity, in a good way.
Confessions of a Teen Idol premieres Sunday, Jan. 4 at 8 p.m. on VH1.