NEWS
Confirmed: Hugh Hefner & Holly Madison Split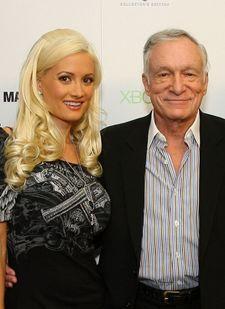 All good things must come to an end...even for rich and famous playboys like Hugh Hefner. And on Wednesday, the publishing king confirmed to E! that he and girlfriend Holly Madison have called their relationship off, putting to rest rumors that have been claiming the lovebirds were no more for weeks.
"If she's says it's over, it's over," Hef said. "But like I've said before, she is the love of my life, and I expected to spend the rest of my life with her."
Article continues below advertisement
The 82-year-old founder of Playboy Magazine revealed things started to go sour about six months ago, when Hugh discovered he was unable to father a child with Holly.
"With my sperm count, it's not possible," he explained. "I was willing, but it was not possible...She'd like to be married and have children, but it's not in the cards here for me."
On her reality show, The Girls Next Door, Madison, 29, made no secret of her desire to marry Hefner and start a family.
As for the fate of Hefner's remaining girlfriends, Bridget Marquart, 36, and Kendra Wilkinson, 23, (who has been romantically linked with Philadelphia Eagles player Hank Baskett) Hugh says they're still romantically involved but admitted, "the relationship with Kendra will be ending when she moves out probably by the end of the year."
But don't think the king of all swingers is taking his breakup lying down--no pun intended! He admits there are several girls waiting in the wings, and a few of them have caught his fancy.
Article continues below advertisement
In the last week, Hefner has been spotted with 19-year-old twins Kristina and Karissa Shannon. "They very much want to be girlfriends and now under the present circumstance, they probably will become my girlfriends."
There' s also a college senior from Georgia-- whom Hefner identifies as Amy Leigh Andrews --in the running .
"She was testing here this past weekend," Hefner reveals of the centerfold wanna-be. "And she said she'd like to be a girlfriend, too."
Hmm, Holly better think long and hard on this one!