NEWS
Constantine Talks About Rocking the Tonys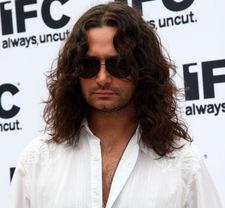 The Tonys will be rocking in every which way tonight. And at the rehearsal for the show, OK! caught up with American Idol's Constantine Maroulis, who busts it out eight times a week in the Broadway hit Rock of Ages.
Maroulis plays Drew Bowie, a hopeful wine-cooler drinking rocker who dreams of making it to the big time. And he's the first Idol contestant to snag a Tony nomination for Best Leading Actor in a Musical.
Article continues below advertisement
Where were you when you heard that you were nominated for a Tony?
I was in my apartment in the city and I woke up right in time as they announced my name in my category. My mom and my cousins called. And I had the obligatory agent/manager calls, the publicist and producers. Basically, the phone hasn't stopped ringing since. It was crazy. My mother was blown away. She is still hung up on me not winning American Idol. She can't believe her boy didn't win. But this is what I've always dreamed of. I've been watching the Tonys since I was a little kid.
Who are you bringing to the Tonys?
My family will be with me — my beautiful mother will be my date. I'm also bringing my sister Anastasia, my brother, Athan, his wife, and some friends. I got a bunch of $900 tickets. I'm the youngest of three, but we have a massive family. It's really awesome to bring everyone together. And all the cousins in Brooklyn and Long Island all going to be watching. It's been quite a ride for them these last few years.
How are you preparing for the Tonys?
I'm trying to stay focused and do my show. Unlike every other award show, we do ours every night and it's very challenging. It's lot fun and we feed off the energy of the audience, but wailing Journey and Whitesnake eight shows a week is not an easy task. So I'm taking it day by day and not thinking of what's at stake.
What is it like performing at the Tonys?
It's different. We're comfortable in our theater. We're comfortable with the sound levels and the way the stage feels underneath us. Radio City is massive and one of the most famous venues in the whole world. There's a whole new crew. There's an elevator that's bringing us in. And of course, there are about 100 cameras on us as well. I worked with this TV crew on American Idol. A lot of the camera guys, the assistant director, and the guys in the booth worked on American Idol because they're the best in the business. So they got the best to do this show. It's sort of like a crash course in Radio City performing. I've never been up on that stage. I've never been to the Tonys either. So I'm thrilled and honored.