NEWS
Cookie Monster Creates Audition Tape for 'SNL'!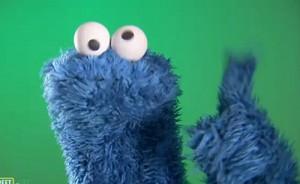 Sesame Street's very own Cookie Monster has created an audition tape to convince the gang at Saturday Night Live that he should host the show. Sesame Street posted the video today on YouTube and Facebook.
Cookie Monster says is drive behind the urge to host SNL is to "branch out beyond me cookie-eating career."
The four-minute clip followes Cookie Monster as he does his very own run through of a SNL host.
Article continues below advertisement
After the opening monologue, the skits include a "MacGruber"parallel "Macarooner," a few "Weekend Update" jokes and even a musical guest appearance as "Monster Gaga."
So what is with all the social networking campaign tactics? Cookie Monster may be trying to follow the Betty White model, as the 88-year-old hosted an episode of SNL earlier this year after a Facebook campaign worked hard to put her there.
MORE ON:
Saturday Night Live
No word from NBC or SNL yet on the matter.