NEWS
Corey Feldman Banking on 'Twilight'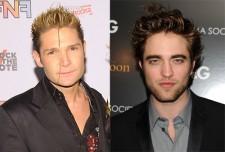 While the Twilight craze has continued to sweep the nation, even actor and now producer Corey Feldman is catching onto the Vampire obsession as he reveals that his new film mirrors the fan-loving flick starring Robert Pattinson.
"I think it's interesting because the new Lost Boys actually refers to Twilight. We give a nod to the Twilights of our day in some small way," Corey reveals to OK! while at the Friends and Family Grammy Party in L.A. alongside Katy Perry, Estelle, and David Archuleta.
Article continues below advertisement
But don't think that this recent divorcee is trying to be a romantic vampire like Edward as he tells OK! that he just believes that the idea behind the Twilight Saga is original and helpful to his own career.
"At the end of the day, you've got to come up with new concepts and I think that obviously they've come up with a concept that sells to millions and millions of people around the world," Corey gushes to OK! in Hollywood, "I think that it's going to keep me in business for a while!"
And with an acting track record reaching as far back as 1980, the Stand By Me star is even taking on a new role in the third Lost Boys as, "executive producer."
Lost Boys: The Thirst is in talks to be released on DVD around next summer with Corey playing the role of Edgar Frog.
The original Lost Boys was released in 1987, but Corey only got involved in 2008 for the sequel.