NEWS
Couch Potato: John Lehr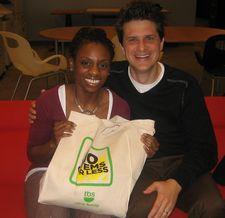 It takes a special kind of man to make a show about grocery stores funny. Luckily John Lehr is such a man. As part of the creative force behind TBS' improv comedy series, 10 Items or Less, John and co. make a cleanup in aisle seven a laughfest! John's also become TV icon, though he's not recognizable right off the bat. He starred as the cavemen in therapy in those hilarious Geico spots. John stopped by the office to school us on making funny on the spot. (Our marketing department is still thanking him for taking on the role of boss and announcing they had the rest of the day off!)
Article continues below advertisement
Your show 10 Items or Less takes place in a real grocery store?
It's in Recita, Cali., and it's called Johns. They have excellent produce. All the customers in the store when we shoot are real people.
And your entire script is improvised?
We write a detailed outline with no dialogue, so the narrative is really strong in the show, but the cast never sees a script.
This season, your character Leslie and his nemesis, Amy, are getting down and dirty. What's up with that?
Leslie's had a crush on Amy since high school, but she was popular and he was a nerd. Now he's older but he still sees her the same way. We had a scene where we got it on in a bathroom stall. It was very pleasant making out with Jennifer Elise Cox (who plays Amy), I have to say.
You're in town teaching a couple of courses…
My writing partner Nancy Hower and I have been teaching college workshops on acting and writing improv. There's more and more improv happening, and theater schools don't really teach that. We're able to work with people who really like our show, and it's been great.
Article continues below advertisement
What's your favorite section in a grocery store?
I'm from Kansas, so I'm a meat section guy. In a recent episode, Leslie decided people wanted fresh beef, like really fresh, so we had a live cow in the store. People picked out what part of the cow they wanted, and Leslie was going to slaughter the cow. The cow was so cute, such a cute cow. Lots of peeing and pooping.
Were you prepared for that?
I wasn't, but the animal handlers seemed to be!
A lot of people know you as the Geico caveman in therapy.
I am a proud Geico caveman. I had worked with the director of the Geico commercials before. They know that I improvise and bring me in to rift on things. This was one of those times.
How was the experience?
It was totally bizarre. I cannot believe how popular they are. I did it with Rocky's Talia Shire. She was a fan of the commercials and she wanted to do them. I was starstruck.
Did you get anything out of those therapy sessions?
Yes, I did. I got a lot of money. That's the best therapy.
Were you doing 10 Items or Less when Cavemen premiered on ABC last fall?
Yes, so I couldn't do the show, though I did a guest appearance inthe pilot. I played a weatherman.
10 Items or Less airs Tuesdays at 11 p.m. on TBS.