NEWS
'Cougar Town' Co-Star Josh Hopkins Says Courteney Cox is "Professional" About Separation From David Arquette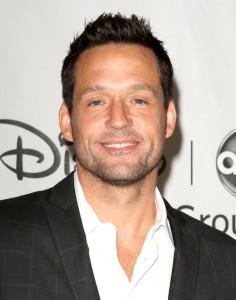 Cougar Town cast mate Josh Hopkins has been working alongside Courteney Cox for a while now and tells OK! that the now single mom is being very "professional" about her recent separation from David Arquette.
"She has been very professional about it. She definitely confides in everybody when she needs to talk because we are all friends, but if she didn't, you would never know from work at all that anything is different," Josh told OK! on Friday while out supporting Omnipeace.
Article continues below advertisement
OK! NEWS: COURTENEY COX & DAVID ARQUETTE: "NOT LIKE WE ARE GETTING DIVORCED"
The actor, who plays Courteney's on-screen love interest, claims that she is very mellow and focused during this rough time.
"She is so relaxed, she is on point, she is on it, and she is a real pro's pro."
Josh explains that Courteney focuses a lot on her daughter, Coco.
"If Coco is not there, she is always talking to her on the phone. 'Coco say I love you again. Coco I'll be home to tuck you into bed.' They are very close."
The 46-year-old even brings her little one to set for a bit of fun during the workday.
OK! NEWS: DAVID ARQUETTE CHECKS OUT PUMPKINS WITH CUTE KITTY COCO
"Coco comes quite a bit. Its always fun. She usually goes to Kraft Service and then starts selling stuff from Kraft Service. She comes in with like four bucks," Josh explained at Kitson in L.A.
David and Courteney, who were married in June of 1999, announced their separation this past October.