NEWS
Could Freida Be The Next ScarJo?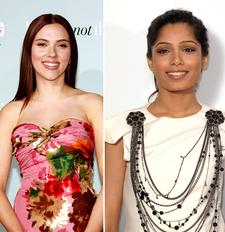 Move over ScarJo — there's a new muse in town!
A pal of Woody Allen has told OK! that Slumdog star Freida Pinto would be perfect to replace Scarlet Johansson as the veteran director's semi-official inspiration du jour.
The Annie Hall director — who has for decades picked a young woman from the Hollywood scene to help shape his creative vision — has made a string of movies with Scarlett, including Match Point, Scoop and Vicky Cristina Barcelona.
Article continues below advertisement
But he has just cast Freida to star with Josh Brolin and Naomi Watts in a movie that will begin shooting in the summer.
And Marshall Brickman, who wrote some of Woody's biggest movies, thinks that she could easily fill the Lost In Translation star's shoes — and join the ranks of past muses including Mia Farrow and Diane Keaton.
Speaking at at Guild Hall Academy of the Arts 24th Annual Lifetime Achievement Awards, Brickman says that his friend looks for "high intelligence, sexual attraction, mystery and box office potential" from his muses.
And does the Slumdog star fit the bill?
Well, duh! (Actually, we're paraphrasing).
What Marshall acutally said was: "Oh God — she's spectacular, she really is."
By Oliver Coleman