NEWS
Countdown: OK!'s Hottest Vampire Couples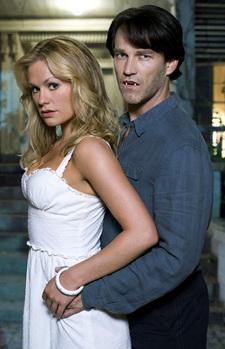 Blame it on Béla Lugosi, Bram Stoker, Anne Rice... the list of those who have brought sex appeal to the undead has captivated readers and movie audiences for centuries — especially when it comes to the undeniable attraction between the bloodthirsty vamp and his mortal victim!
OK! decided to put together some of our favorite vampire couples through the years. Call it our "sexiest couples" list with a biting twist!
Article continues below advertisement
#1:
Who can deny the sexual heat between True Blood's Sookie Stackhouse (Anna Paquin) and Bill Compton (Stephen Moyer)? The brooding centuries-old Bill falls for the naive and virginal waitress, Sookie, and to say that sparks fly — well, take a look for yourself!
#2
The next hot vampire couple is a blast from the past. David Boreanaz made the undead cool--even something to be desired as the hunky and tortured vampire Angel on t.v.'s Buffy the Vampire Slayer. Even Buffy (Sarah Michelle Gellar) herself couldn't help falling in love with this bloodsucker with a debonair flair, spiking the show's ratings and even landing David with his own Vampy spinoff, Angel.
#3
Next on our list, a recent favorite, the gorgeous Edward Cullen and Bella Swan from Twilight! Robert Pattinson and Kristen Stewart take teen angst to a whole new level as Edward (a century-old vampire trapped in a 17-year-old heartthrob's body) can't decide whether he wants to kill or marry his mortal obsession, Bella. Guess we'll just have to wait for the sequel, New Moon!
#4
Bram Stoker's Dracula enchanted movie audiences with its haunting love story between a crusades fighter who sells his soul to the devil after losing his beloved queen. Centuries later, the count, now the immortal Dracula (Gary Oldman) thinks he's found his dead queen reincarnated in a 19th century girl, Mena (Winona Ryder) and he will stop at nothing to get her back.
Article continues below advertisement
#5
Next on our list: the infamous pairing of Brad Pitt and Tom Cruise as lonely bloodsuckers in Anne Rice's Interview with a Vampire. While technically both leading men play vamps, Cruise's Lestat first sees a human Louis (Pitt) and becomes obsessed with him, later deciding to make him his immortal life partner.
#6
Who could forget the '80s cult classic, The Lost Boys? When Michael (Jason Patric) and his brother move to a new town, he falls for the beautiful Star (Jami Gertz). But what he doesn't know is that she has a terrible secret and an even darker group of friends who prey on the living!
#7
Aaliyah wowed critics and audiences with her disturbing portrayal as Queen Akasha, a powerful vampire with the ability to seduce--and seduce she does in Queen of the Damned, luring the young, just turned vampire Lestat to be her King.
CLICK HERE FOR THE VIDEO!
#8
In Underworld, Kate Beckinsale plays Selene, a sexy vampire warrior entrenched in a war between the vampire and werewolf races. She ends up falling for Michael (Scott Speedman), a werewolf who longs for the war to end.
#9
In 1983's The Hunger, a young Susan Sarandon falls prey to the worldly wiles of vampire couple David Bowie and Catherine Deneuve. And when Bowie's bloodsucker falls apart (literally), the path is clear for Susan and Catherine do more than a little bit of nocturnal canoodling.