NEWS
Country Music Singer Chely Wright Confesses She's Gay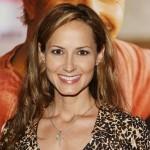 Country music singer Chely Wright has confirmed she is gay after many rumors and is now speaking openly about her sexuality with Access Hollywood, revealing how hard it was to keep secret throughout her career.
OK! GALLERY: COUNTRY GOES GLAM
With her memoir, Like Me, coming out soon, Chely wonders if she will be accepted in her country music community.
"Historically, we've never had an out country music artist, ever," Chely, 39, told Access Hollywood.
Article continues below advertisement
"Early in my life I went through what I think a lot of gay people go through, thinking that I could change and pray it away," she revealed.
OK! GALLERY: COUNTRY COUPLES STAY CLOSE AT ACM AWARDS
Chely also explained her long-term relationship with country music star Brad Paisley, who did not know she was gay.
"When I realized he was wanting forever with me… I could see the damage I was doing to him, and I cut him off completely, cold turkey," she said.
Although she tried to make people believe she was straight, the rumors got to her. She was even confronted by her friend, John Rich, of Big and Rich.
"He said, 'You're not gay are you?!' I said,'No, John, I'm not.' He said, 'Good, thank God.' And that began a spiral for me. I had a meltdown shortly after that."
OK! GALLERY: COUNTRY QUEENS ROCK THE ACM AWARDS
Chely even struggled with thoughts of suicide and in 2006 she contemplated shooting herself.
Article continues below advertisement
"I was looking at myself in a mirror… as I was about to do it," she told Access Hollywood. "I just looked at myself and something snapped and I started to cry… and I realized I have too much to live for."
Chely is hopeful her career won't be hurt by her coming out, but if it does she'll accept it. Her new album, Lifted off the Ground, is set for release on May 4.
"I may lose my career in country music, that will break my heart, but it's okay," she confessed. "I have a lot of different pieces of my heart that matter and that's what I've come to learn."
For more of Chely's interview, tune in to Access Hollywood on Wednesday, May 5.