NEWS
Courteney Cox & David Arquette Reunite to Promote 'Scream 4'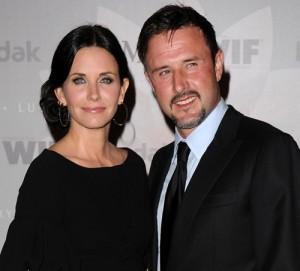 After a highly public separation, Courtney Cox and David Arquette reunited yesterday at the Mondrian Hotel in West Hollywood to promote their newest flick Scream 4. Courtney and David seemed to be quite happy too! They exchanged glances and winks and seemed to be somewhat flirty in front of reporters! The duo were joined by the director Wes Craven and co-stars Neve Campbell, Hayden Panettiere, Anthony Anderson, Emma Roberts, and Rory Culkin.
Article continues below advertisement
This being many of the actors' fourth time appearing in the franchise, they collectively agreed that they had no trouble getting right back into character.
"I mean, it's been 15 years now since we started doing these characters so it's not difficult to jump into. I had fun watching the films again before we started this just to get a sense of it. It was really nice to see that they still hold up really well," Neve explained to reporters.
Courteney is reprising her role as Gale Weathers, the journalist-turned author, but this time around she has a different perspective on the character.
"She wants her own fame and she always did so when – 10 years later when the murders started happening, she just wants to get really involved so she can write a book and become more famous. She's got a one track mind and I like that part of playing someone who's so selfish. It's fun. I think that it's a different kind of journalism. It's really about the fame for her."
Article continues below advertisement
A lot has changed in the last 10 years, including the audience. But aside from the cast additions, David, who plays Courteney's husband, police officer Dwight "Dewey" Riley, doesn't really feel any different than he did all those years ago.
"We've been doing these for 15 years and this fourth film is sort of bringing to life the first one… there's been 10 years in between this one and the last and different kinds of horror films and technology changes. I don't know, it's just really – I think with the new cast coming along – it was really interesting to see because they're kind of reflections of us when we first got there."
David also gets a kick out of watching people watch the film.
"I just chuckle through – I just get a kick out of watching the audience, too. I love when you go to a horror film with real horror fans and everyone is watching and getting a kick out of it and screaming. That's when it's the most exciting for me, and Wes brings that out in these films," he said with a grin.
Article continues below advertisement
The cast had nothing but praise for the filmmaker, Wes Craven, who has been there for the entire duration of the Scream movies. Courtney explains "He's an amazing filmmaker and he – David and I were talking about this in an earlier interview – yes, he is the master of this."
New faces to the film, Hayden and Emma were nothing short of ecstatic to be part of the cast.
"Who wouldn't wanna be a part of Scream? I was sitting there watching this movie and thinking, 'I don't think I'm supposed to be here!' I could never imagine myself on Scream with Neve Campbell and Courteney Cox – it just doesn't make sense!" Hayden said excitedly.
The cast got to spend a summer in Michigan while filming the flick. Emma explained, "We had fun. I think we all got cast and were thrown into it pretty quickly, and we were in Michigan and it was the summer so we all were staying all near each other – we'd get together, have dinner, hang out – it was really fun. It was a fun summer."
Scream 4 is set to hit theaters April 15 but until then, check out the trailer below!
By Alannah Scharfenberger with reporting by Elizabeth Rosselle