NEWS
Courtney Alexis Stodden & Doug Hutchison Say "51 Plus 16 Equals Love"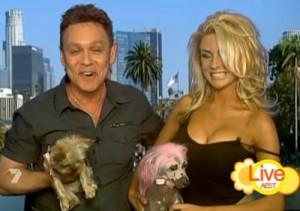 Can't get enough of Doug Hutchison and his 16-year-old bride Courtney Alexis Stodden? You're in luck. The bizarre couple confirmed today on Australia's The Morning Show that a reality TV program — broadcasting their daily lives — is in the works!
The Green Mile actor and aspiring teen singer proudly said in their world "51 plus 16 equals love."
So why shouldn't everyone get a glimpse into their marital bliss?
Article continues below advertisement
"We've been seduced by a lot of producers, wanting to do a reality TV show and we're in negotiations right now with a very prominent producer," Doug shared with the co-hosts of The Morning Show, holding the couple's new Yorkie as Courtney stroked her pink Chinese Crested beside him. "We're talking about the possibility of taking it to networks."
"It's gonna be a reality show like no other," Courtney chimed in excitedly. "Out of this world!"
Courtney also shared what attracted her to the much older actor.
"Because of his face, his body, his sexy hair... talk about seducing — he seduced me immediately," she gushed. "When you find that one man and you love everything about, go for it. He's the one for me."
When the hosts asked Doug what he loved about Courtney, and the fact that she is young with "so much ahead of her," Courtney interrupted before he could answer.
Article continues below advertisement
"I have a lot in front of me, yes, I think that's what seduced him she quipped," she quipped, shimmying her chest at him.
Then Doug went all mushy gushy.
"I love her heart, her spirit and her sense of humor," he said. "She has added a light to my life that no other has. I felt extremely blessed to have found her."
Courtney also discussed her recent Baywatchesque photo shoot in which she portrayed Pamela Anderson.
"Women have treated her in a classified way," Courtney said of Pam, adding "the same way which they have treated me in a lot of cases so I really admire that she holds her head up high no matter what people dish at her. She always keeps a sense of humor."
Doug praised his young wife for sharing similar qualities with Pam.
Article continues below advertisement