NEWS
Courtney Alexis Stodden & Doug Hutchison Sign Reality Show Deal: "We Are So Excited"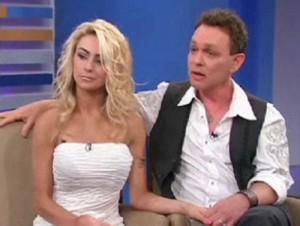 The world of reality TV just got two new players. Teen bride Courtney Alexis Stodden and her husband, 51-year-old Green Mile actor Doug Hutchison have signed a deal with Merv Griffin Entertainment for a new reality show.
The 17-year-old aspiring actress and her older hubby made waves when their controversial marriage hit the media, and now their bizarre romance will continue to unfold on television as they've signed a deal with Roy Bank.
Article continues below advertisement
"We are so excited to be working with Roy Bank, a great professional in this business," Courtney and Doug exclusively told Radar Online. "We are proud that we were able to find the perfect producer for our reality show and are thrilled to be working with this prestigious production company."
Bank has produced many reality shows including hits like Are You Smarter Than A Fifth Grader?
"The reason we went with Roy is because we feel that he is the man who will be able to place Courtney's show in front of the best network for her," Courtney's mom Krista Stodden told Radar.
What can fans expect? A look into the newlyweds' life.
"They are going to be very, very open about their lives," Courtney's mom added. "They want everybody to see their life. Nothing is off-limits."
Are you looking forward to the new show? Sound off below.