NEWS
Courtney Alexis Stodden Talks '24 Hours Straight' Wedding Night With Doug Hutchison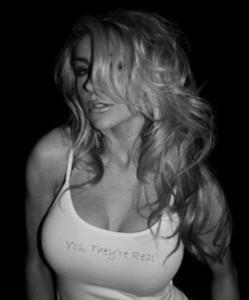 Courtney Alexis Stodden is loving newlywed life with Doug Hutchison. The 17-year-old who famously married 51-year-old actor Doug Hutchison earlier this year can not stop gushing about the headline-making couple's flourishing love and affection for one another. Yesterday, Courtney hosted a live chat with Radar Online and opened up about her "wonderful" sexy wedding night, her plans for college and embarking on an acting career.
Article continues below advertisement
Of her wedding night, Courtney shared with Radar: "We went to the Chateau in Hollywood it was so beautiful it was a wonderful experience. I was aroused for 24 hours straight."
Courtney was a 16-year-old virgin when she married Doug, and despite the controversy surrounding their nuptials, they remain very much in love.
"I think it was because he was 51 and his life is over and I'm just venturing out on mine," Courtney quipped of why the marriage works. "I'm here to make the second half of Doug's life a lot better!"
So what are the blonde bombshell's college plans?
"I would go to college and study all of Doug," she said laughing. "All of his body, and all the elements within that. What they do and what they still do. It would be a lot of fun."
Article continues below advertisement
As for their home life, Courtney says that Doug totally dotes on her.
"He's cooking for me, cleaning for me, he's like the wife around the house. He picks up the slack around the house and that's very inspiring to me," she shared.
And aside for Doug's bedroom antics and household duties he's mentoring Courtney in his trade — acting.
"He's teaching me acting, thank you. We just did a little acting class two nights ago," Courtney said. "We have to resume that."
Catch more of Courtney's interview at Radar Online.