NEWS
Courtney Alexis Stodden "Too Sexy" for Facebook? Teen Bride's Profile Removed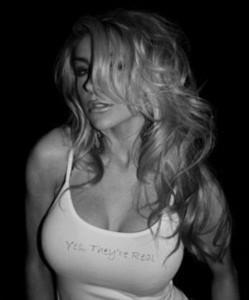 Courtney Alexis Stodden won't be updating her Facebook profile with sultry pictures any time soon. According to her mom, the infamous 17-year-old teen bride has been removed from the social networking site for being "too sexy."
Courtney took the media by storm when she married actor Doug Hutchison, 51, when she was only 16.
Article continues below advertisement
And reportedly, today she found that one of her fan pages had been pulled by Facebook officials.
Krista Keller, Courtney's mom, told E! News that she thinks it's ridiculous that her daughter was singled out, especially since she didn't post anything too risque.
"It's the jealousy from the women towards her," Krista told E!. "The men love her, the women hate her. The women report the photo because it's so easy to do. You just click a button. They think she's too sexy, they all report her together, and it's done."
"On any Facebook page, people can report it for inappropriate content," the concerned mom, who gave her daughter full consent to marry Doug, added. "There is nothing on her page you wouldn't find anywhere on Facebook! She has never done any nudity. Not a breast, not even a butt cheek. It's just her in a bathing suit!"
When Courtney tries to access her account, she is denied "due to inappropriate sexual conduct," her mom says.
Article continues below advertisement
"A lot of men and young girls love her page, but when the wives see their husbands on her page, they team up to get Courtney kicked off!" Krista said. "When Facebook gets enough reports on one page, it locks her out."
And this isn't the first time the social networking site removed Courtney. It has been a problem in the past.
Do you agree with Facebook's stance? Sound off below.