NEWS
Courtney Alexis Stodden Worries She Doesn't "Look Good" When Women Don't Call Her Names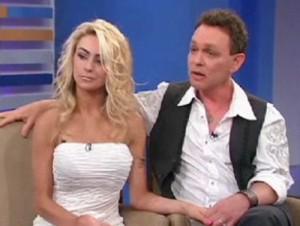 Their controversial marriage sent shockwaves through the media, but don't let their 35-year age gap fool you — Courtney Alexis Stodden, 16, and Doug Hutchison, 51, have a divine relationship. The aspiring teen singer and the Lost star believe they were brought together by something bigger than them; today on the daytime talk show Father Albert, they opened up more about their romance.
"God connects us," the Green Mile actor told host Albert Cutie in today's episode, via the Today Show. "When you meet that someone you love, there's something inside that's leading you toward that person."
Article continues below advertisement
Courtney also reiterated that she remained a virgin until marriage.
"God blessed me with a beautiful gift," she gushes. "He blessed me with my soul mate."
Does Courtney feel she is missing out on her youth by marrying at a young age? Not at all.
"Doug is my college. He's my acting coach. I have a built-in acting coach!" she shares. "How many girls would want that? That's their dream, and I fell in love with my dream."
Courtney's mature look, provocative modeling shots and music videos have given her a bit of a negative reception from women, who have used insensitive words to describe her, like "slut." How does she handle the negative names?
"It's kind of funny because if a woman doesn't call me that when I walk by, I think I need to go home and redo my hair because I don't look as good as I did when they called me that," she admits.
Article continues below advertisement
Doug says he finds his wife very mature, which is all that matters.
"Courtney is ageless," he says. "And she's right when she says she's an old soul. I joke around with her — I say one of the reasons we work is because Courtney is 16 going on 36, and I'm 51 going on 21. So we conversely sort of meet somewhere in the middle."